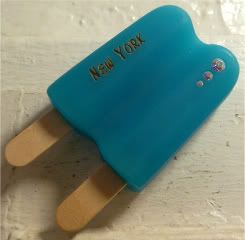 Magnet #1285 - NYC Popsicle
Ages ago, I made the conscious decision to ignore all the
Torchwood
chatter until
DCsis
was able to drop it to DVD for me. It's actually been easy to ignore everyone talking about it, and
Twitter's
been unusually good about no spoilers these last two months.
What I haven't been able to avoid is how divided people feel about the show.
At our London tweet-up with
@

blogtorwho
, I mentioned that based on the trailers the show already felt more American than its UK predecessor. And he responded with, but it's always felt more American, citing Captain Jack.
It was so odd to hear him say that, because for me, original!recipe!
Torchwood
didn't have an American feel to it. It was always way too dark for US television.
This week, I'm mainlining these episodes.
First, I didn't realize how much I so very much missed Jack and Gwen. So much. (And
Ianto
, Owen and Tosh, too, of course.)
Second, it's dark. Darker than I like my US television. Which means it kept its original voice, so that's something, I suppose.
Third, there really is something more American about it. Whether it's bigger explosions or American actors or scope of story or bigger budget or what, I'm not sure at all.
Fourth, I really did love the Babe, I mean, Esther translates Gwen scene. It was cute, and a little tongue-in-cheek. It's why I totally picked up this Popsicle at
LaGuardia
, because even the littlest things have different names across the pond, and those differences makes me giggle.
Last, I don't know that I like it. It's not pulling me in emotionally as previous
TW
series. But I think it's mostly due to the overarching storyline that I really don't like - so much so that like
TW

: Children of Earth
, it's a heavy mantle of sadness on me with each episode.
Granted, I haven't yet seen the last three episodes, so maybe they'll figure out a way to draw me back in.
But for now, it's nice to revisit old friends.