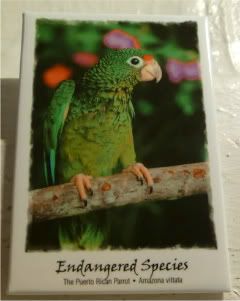 Magnet #1266 - Puerto Rican Parrot
When I was in grade school, I had the only big slumber party I was ever allowed. All my friends came over, sleeping bags and typewriters or word processors (shut it) in hand.
It was a big "let's all do our endangered species papers over at Joy's house" slumber party (again, shut it).
My paper was on the parrot, dunno if it was this Puerto Rican parrot on this magnet that my friend gave me, but it's close enough.
So, here's a heart-warming story. Apparently, these Puerto Rican parrots were down to like 10 parrots left
in the world
in the 1970s, which is why they were on the endangered species list in the first place.
As I was doing my research for this magnetpost, I found this article about how a
zoologist from NC State University was helping reintroduce parrots back into the wild
. At the time, there were only 40 or so birds left. The very last line of the article said:
"Within a decade, Collazo hopes there will be at least 100 Puerto Rican parrots in the wild."

Ya'll, that article was written in 2000.
It's now 2011. And look what this article written earlier this summer has to say
about the current parrot population
:
"It is difficult to pinpoint the number of birds because they are elusive and not all have functioning radio collars. But White said there are 20-25 in El Yunque, east of San Juan, and 40-70 in Rio Abajo Nature Preserve in western Puerto Rico."


Yay! That's pretty much a hundred! Talk about people giving a shit!
Yes, yes, I know - don't get me started on MTV's new social awareness campaign called
give-a-shit.org
. I'm pretty sure I don't know if it's real or fake...just that I want to jump out a window when I see it.
And no, no unlike this superpretty parrot, I can't fly.