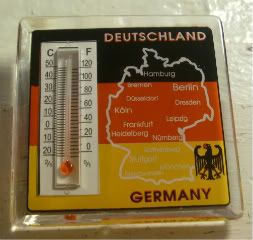 Magnet #1260 -
Deutschland
The last time I was in Germany, there were two of them. That's right. That's how old I am.
Eventually I must go back...to see the other side of the non-Iron Curtain, specifically Berlin and Dresden for their architecture, plus a couple of other towns.
As high
schoolers
running rampant, we certainly had a blast in West Germany, learning how to eat schnitzel (which I loved) and learning how to say shit in Germany, (
scheiße

,
which I also loved saying, much to the boy's utter dismay), and learning about how one shouldn't just plug in hair appliances into wrong electrical sockets...or one doesn't get to do one's hair due to melting appliances (which I did not love).
Oops.
I haven't figured out how my friend living in Singapore got me a magnet from Germany, but really, who cares - what a cool magnet from Germany! Thanks!