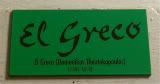 Magnet #1287 - El

Greco
I know next to nothing about El
Greco
, except that he's included in my set of artist signatures because he was one of the leaders of the Spanish School back in the 1500s/1600s.
Even if he was Greek, and really named
Domenikos
Theotokopoulos
.
This
View of Toledo at the Met
is one of my most favorite El
Grecos
of all. The vibrant splash of grays and blacks and greens strikes you from across the room, and as you walk slowly toward the painting, it slowly crystallizes into the hills and towns of Toledo.
And I'm not just saying that because I love blues and greens. It's truly a magnificent painting!