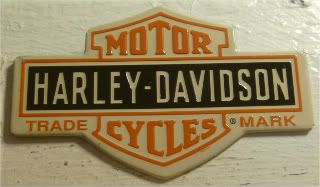 Magnet #1293 - Harley-Davidson
Sons of Anarchy.
Finally. The boys are back. Back after 18 months of hard time, a shiv and a haircut.
Of course, Charlie
Hunnam
looks about 24 with his new baby boy haircut, but you know, I'll take it. Meanwhile
Opie's
got wicked long hair and a beard that's almost as long.
Crazycakes
- completely unrecognizable from his other roles. Love that Ryan Hurst.
Seems like the jury's out on the fourth season - based on
@

sepinwall's
and
@

moryan's
reviews. I have to say I agree. The first
ep
did a great job setting up a lot of the
storylines
for the season - sad it's only 13 episodes - so it should be a good one. Hopefully.
I had my issues with last season, feeling like the pacing was a bit uneven and then had quite the anticlimactic baby resolution. But I think this season will be good, even as I was a lot put off by the last 10 minutes of
uberviolence
. The
show's
always been that way, but damn, has
Jax
come a long way from offing Tara's stalker boyfriend.
Kinda scary.
I'm excited because
STWsis
is along for the um, ride, totally caught up on the show and almost as in like with it as me. She's the one who got me this Harley magnet. Feels like it's only a matter of time before one or both of us are up for figuring out when we'll be riding our first.
Bike, that is.
What?