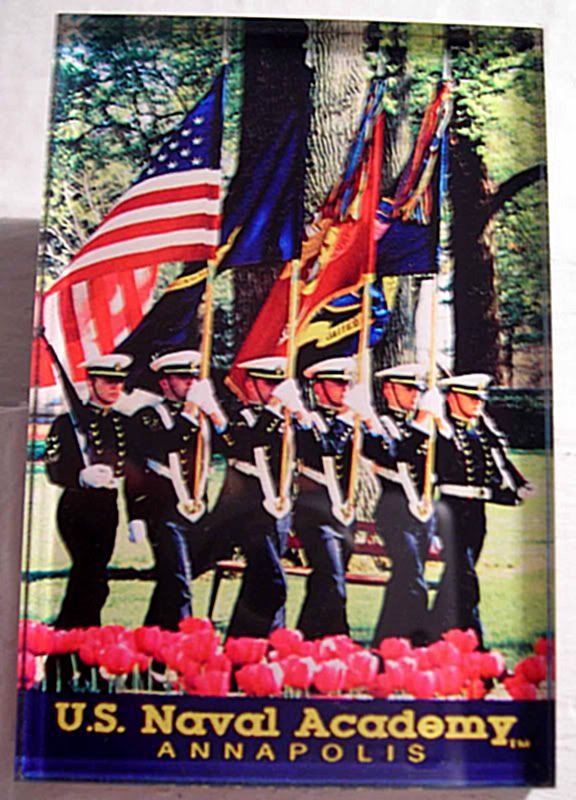 Magnet #231 - U.S. Naval Academy
I might have
too many magnets from Annapolis, MD
.
But, hey, this one's a good one, cuz the
U.S. Naval Academy
opened today in 1845.
Awww, even if I didn't get to do the tour, maybe now I never need to...especially since I have enough magnets. Eh, that's impossible. There are cuteboys in uniform running around Annapolis. Yeah, I think I'll go back eventually. Then I can actually see more than just the auditorium with their heavy-handed, yet tear-inducing recruitment video.
Good gravy, there is no way I'd been able to actually go to the Academy - too much math involved for me to ever be successful. Plus, too much discipline. My hats off to the Academy men and women, though. And thank you for your future service.
I wonder how many of them watched that Justin Lin/James Franco movie,
Annapolis
? I love me some James Franco, but I just didn't know what to make of that film. Was it a drama? Was it a buddy pic? Was it an inspirational tale? Was it a sports movie? Was it romance? Did it make any money? Wait, no, looks like it made like $17mil. Overall. Whoa.
Fun tagline though:
50,000 Apply. 1,200 Are Accepted. Only The Best Survive.