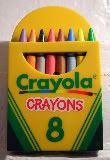 Magnet #262 - Crayola Crayons
A
roadtrip
buddy and I once did a 12-hour
roadtrip
across...
Pennsylvania.
Seriously.
Couldn't help it. We. Just. Kept. Stopping. It was awesome.
One of our stops was the
Crayola Factory
. It was one of those,
OMG
, we're in the neighborhood, it's on the way, we can't NOT stop! I can't remember if this is the one we actually turned the car around for, or whether I saw it in the book in time to take the right exit, but we managed to get there.
It's as you would expect a Crayola attraction to be -
superdamncute
. It's really a fun little discovery land for kids, and clearly, we were out of our demo.
No matter, we got to see how they make crayons, I got this magnet, and we took pictures with the Red crayon, and we got fun little Crayola
tchotkes
.
The best part, is that the
Pez
Museum just down the way from it. Even more
superdamncute
. Loved it. It was just a
pitstop
, but man, you could probably spend a good hour or two just oohing and
ahhing
over the hundreds of
Pez
dispensers. This Project Absurd
entry
was the only decent description that I could find that does it justice. Truly a fun little museum to explore.
My sister called last night to tell me about the Cumberland Pencil Museum, and I was all excited, because I thought, Cumberland County, PA. Did I mention that
Pennsylvania
was my favorite state to
roadtrip
in?
Sigh.
Umm
, turns out...no. The
superdamncool
pencil museum
is in Cumberland...United Kingdom. Alas, I don't see me making it a London
daytrip
in December, but gravy, how fun would it be to say I've been to see the
longest pencil in the world
!