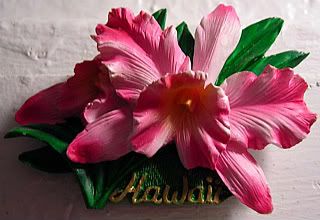 Magnet #259 - Hawaii
So, today in 1950, the territory of Hawaii ratified a state constitution, and became a state nine years later.
Yay
, Hawaii!
My sisters will remember, but I wonder if anyone else will - remember those
I Can Read
books? We owned a ton of those things.
Freakin
' loved those books!
The Toad and the Frog.
Where they were having guests for dinner or something? Took forever before I realized that it wasn't
Wind in the Willows
that I'd read.
Danny and the Dinosaur.
Where the dinosaur was running around town?
Sammy the Seal.
Where the seal was running around town, something about getting out of the zoo?
That pig one, where the pig was looking for a home, and tried out a few houses or something, and then found a puddle of mud and he was really happy?
And, then, there was this one that was all white, with splashes of green trees, and the tiny people in Hawaii - the
Menehunes
? Which I totally looked up on that site I just linked to. And just now realized that they're supposedly fairy people. Dudes. Whoa. Now I understand why they traveled by leaves and pea pods!
Good gravy. It's like every time I remember something about my childhood, it gets turned on its axis.
Anyway...so congratulations, Hawaii!
*I'm SO hoping that this

magnetpost

title actually says, Congratulations, Hawaii! If it doesn't, blame this
site
.
And, yes, I looked up

Yay

! in Hawaiian and it yielded no results.