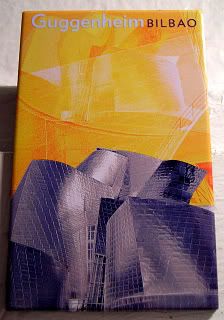 Magnet #264 - Guggenheim, Bilbao
A couple of months ago, I
mentioned
that my sister got me the
1001 Buildings You Must See Before You Die
book, and I was slowly making my way through it to count up how many buildings I've seen.
Suffice to say that sadly, I have at least 900 more to go. Mind you, I haven't been trying before. Hello. Mission!
I spent most of last night looking through the photos posted on the
Modern Architecture
and
Frank Lloyd Wright Appreciation
Society
Facebook groups,
ooohing
and
ahhhing
at gorgeous buildings, and posting a couple of images here and there.
One building that I'd love to see is the one on this magnet - the
Guggenheim Bilbao
. A friend of mine went to Spain earlier this year, and brought this back for me. Love. It.
After having seen the documentary,
Sketches of Frank Gehry
, I was completely psyched to hear her firsthand details of the buildings and the grounds, and seeing her pictures (and of course, my magnet). But seriously. How supercool is this building?
I'm always torn between Gehry's buildings - some people think his work is genius, while others think it's too weird and offputting.
Whatever you think - he usually manages to deliver something to talk about, and something interesting to see. Which is why I love trying to visit whatever Gehry work I can.
To wit, I begged my boss to get me a private tour of
Gehry's IAC building
on the West Side Highway. He totally got me in, cuz he's cool like that.
And, I said yes to one of my coworker's cocktail events, because it was being held in the Condé Nast building, in a Gehry-designed conference room.
I loved my
IAC
tour, but was a little underwhelmed by the Condé Nast room...until I just now realized that once again, I missed the main event. The truly outrageous Gehry work at Condé Nast is the damn
cafeteria
. Sigh. Time to ask someone for a favor. Heh.
Anyway, watch out world, I'm on a life-long mission. Might be a dorky one, but how fun will it be to keep checking things off in that book!
*Joshua Jackson's Pacey Witter, Dawson's Creek, the Kiss Kiss Bang Bang episode where Joey brings Pacey to her Worthington incoming frosh dinner and Pacey wows the table with his conversational abilities, thus forcing Joey to wahhhh all the way home.