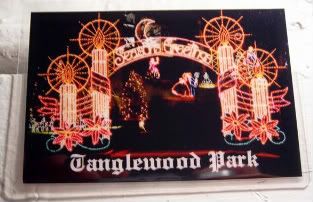 Magnet #280 - Tanglewood Park
Most people know Tanglewood Park in North Carolina for its fabulous golf course. At our house, we know it only for one thing. Or millions, actually.
Every year on the Friday night after Thanksgiving, we go to
Tanglewood Park
to see the lights. It's just what you do, you pile everyone you can into the big blue van, and you twist your way through 4 miles of park and 180 lighted displays.
There's the really fun part, where you all get to hang out with your family in very close quarters, while you all ooooh and ahhhh over the pretty, pretty lighted displays, while playing holiday music in the speakers that only work up front. But, the best part is that you get to just sit in the car the whole time, the ultimate lazy attraction! (Unless, of course, you
want
to do that free hayride. Outside. Out in the cold. Uh. No.)
Then, there's the not as fun part, with the stops and starts and the exhaust fumes of the cars ahead that give you motion sickness and a case of nausea in the close-quartered car, cars breaking down (sometimes your own), and oh, there's part where you're actually driving in a circle...watching lights.
And yet, every year we go. Scratch that. Suddenly my sisters and I, adults now, have found excuses not to go. Napping's a good one. TV's a better one. There's inevitable guilt leaving our younger cousins to the mercies of my mother and Tanglewood, but hey, you just gotta do what you can to save your own skin.
This year's the first Thanksgiving and Black Friday in a while that I'm not spending in North Carolina. I'm posting from New Jersey...having just spent the morning cursing the Bergen County Blue Laws that prohibit any big box stores to open before 7am, despite what the ads and the flyers say.*
But, I gotta admit that there's a little part of me that kinda sorta misses the pretty-pretty lights.
Kinda.
Sorta.
Though, my cousin and I just did ALL of Tanglewood.
Here!
Seriously. Just like seeing it live! But in 8 minutes!
Awesome.
*Dudes. Seriously. Bergen County, NJ. Get with the program. It's Black Friday. You see us outside in the middle of the night, lining up outside of Best Buys and Targets. Turn your lights on, and let us in. I honestly can't believe you're letting some silly old law cost you millions in tax revenues lost during those 3-4 hours that
everywhere else
is open!