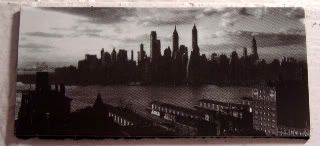 Magnet #567 - Samuel H. Gottscho, New York
This magnet's from a set that I bought from the Met, but I gotta be honest -
I can't figure out if it's really an Alfred Stieglitz.
It's called Financial District by
Samuel H. Gottscho
, a native New York photographer who was known for his city skylines done "in straight-line perspective and sharp focus," according to the
Museum of the City of New York
.
I was confuzzled beween Gottscho and Stieglitz. Hmph. Yep, that's not annoying at all. Looks like I totally need to pay another visit to the museum, huh.
Anyway.
Eight years ago today, my biggest concern walking into the office that morning was wondering whether or not it was too late in the year to be wearing the periwinkle-and-white striped button-down, matching periwinkle shell, light gray skirt, and black sandals I had on.
An hour later, the world changed.