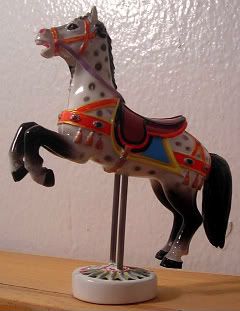 Magnet #570 - Carousel Horse

Magnerine
I've mentioned
before
, that in addition to being a romance editor, I did a
supershort
stint as an editor for a newsletter for the National Carnival Association - a 32-page monthly, called
Carousel
. It's now called
Carnival
, and apparently still around!
*waves to Mr.

Dabbs

*
So, it should be no surprise to know that there was a time when I would have been able to rattle off a history of the carousel horse, major manufacturers, and what shows and parks had the coolest carousels. Hey! That's some interesting stuff!
And, I know you're totally not surprised that this was the first thing I picked up from the Met this weekend, in their Clearance store. (Yes. Clearance store. Get thee there. Now.)
But you probably would be surprised that I somehow managed to
not
walk out with every. single.
Magnerine
. on sale. Otherwise, I would have added a good half dozen more to my
ever-growing menagerie
.
Ok
,
ok
. I'll admit to having had that good half dozen in my hands before I started walking around the small little store and putting them back. All told, I did buy something like 10 magnets this weekend. Thank goodness for sets, I suppose.
What? It's been a crazy year full of ups and downs (see what I did there?), and so I figured I deserved a little
Magnerine
to make me feel better, thanks very much!