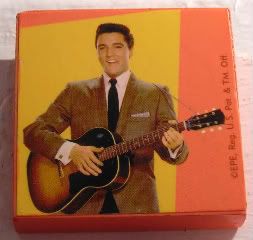 Magnet #717 - Young Elvis
Dang, am I behind! Things are crazy at work, and with 26 days left to go before we decamp to Tampa for the Transitions Championship, things are bound to get crazier. I better do a magnet photoshoot quick, cuz dat folder be tres slim pickin's.
I picked this magnet for right this second, because the new Transitions Optical spot,
Serenity
, just aired, and it reminded me of our Seattle trip.
And the deplorable fact that I was with a whole team of adults, none of whom knew my favorite Elvis movie,
It Happened at the World's Fair
, that took place at the 1962 Seattle World's Fair.
Like, seriously. How do you not know that movie? We were sitting at a restaurant underneath the monorail! The monorail that Elvis rode with little Sue-Lin to get to and from the fair! Down the street from the Seattle Space Needle! The Space Needle built specifically for the World's Fair! Good gravy.
One of my travelmates even said, wait, Elvis was...an actor????
*dies*