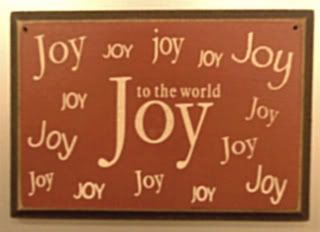 Magnet #731 - Joy to the world
This night two years ago,
I decided to start a blog
.
Nope, I still don't believe that I have two years' worth of magnets to keep this
joy magnetism
going. Probably helps that I keep making things that aren't magnets, like this little plaque a friend gave me, into magnets.
Anyway, you'll see a bit of a color palette change, though I'm not entirely happy with it, and reserve the right to switch it up. Probably won't happen before March 23rd, when I'll be able to sleep again, but we'll see.
Thanks to all of you who have read, commented, encouraged and even reviled me; thanks for sending me magnets and contributing content; thanks for hanging out with me for these last 730 magnets!