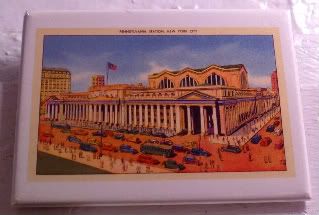 Magnet #947 - Penn Station
I love historic images - old images of places and people gone by. You can almost feel the history jumping out at you. (Although, I will say that I hate those superold images of people, you know, the ones that look like the
people
could jump out at you and kill you?)
But images of old buildings in their former glory are always cool to see.
I magnetblogged Penn Station a couple of years ago
- and looking at this magnet, it's still so very odd to know that people just went out and demolished such a grand building.
Penn Station is still there, of course - the original station celebrated its 100th anniversary this year. But it's a much lesser version of itself. Still busy as ever, it's used by Amtrak, LIRR, NJ Transit, and the MTA. There are even
plans constantly afoot to improve it as the Moynihan Station
, but who knows if they can restore the past.
I picked the station today, only because as I type this, I should actually be walking through the halls Penn on my way home. Except that I missed my train, having overslept this morning.
Thank goodness Amtrak tickets are much easier to switch than plane tickets!