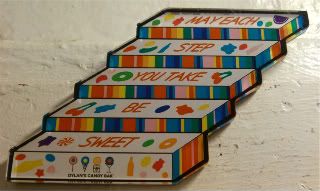 Magnet #1171 - Dylan's Candy Bar Steps
Thought I'd go with a sweet magnet for Mother's Day.
One of my favorite places in New York is on the Upper East Side in the 60s,
Dylan's Candy Bar
. I've
magnetblogged
about this
candy store before
, but there's really nothing like going to visit.
I love that you get totally overwhelmed by the candy, the people and the candy-related soundtrack. It just makes you happier walking in.
So when I saw that there was a Dylan's Candy Bar at the Galleria in Houston, we immediately veered into the store. I made a beeline for the magnets, of course. They were all branded New York, rather than Galleria, and this was the only magnet I saw without NY listed.
I also love it because one of my favorite parts of the store itself is the
candy staircase
. So damn charming.
And sweet! (See what I did there?)