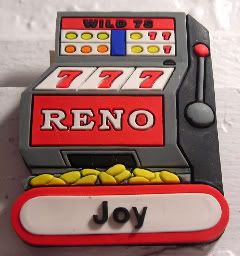 Magnet #400 - Joy in Reno
I've never been to Reno, but from what I could tell, in the ranks of casino towns, it's just above Atlantic City, but way below Vegas.
If I were to be completely honest, were I to visit Reno, I'd be spending a goodly portion of my time just sitting in front of the slot machines. For some reason, I think I can control the spins of the machine...just by pressing the buttons. It's actually kind of sad, really, how quickly I can go through a roll of quarters.
But, according to the
Reno-Tahoe
travel website, there's some fun stuff to do in Reno.
There's the
National Automobile

Museum
(whose site doesn't work so well) and the
Nevada Museum of Art
(whose logo is cute as a button - confusing to the eye, but still cute), plus at least half a dozen historic buildings to visit (including a building that was given by the state of California, for the Transcontinental Highway Exposition).
What? We all know that I love the fun sights to see in any town.
Here's another - the
Lake Mansion
, owned by the founders of Reno, which apparently has been jacked up and moved a couple of times in its 132-year history. So funny. And they say it might be haunted. Really? Did the ghosts move with them? I'd bet the ghosts are slightly confused by their surroundings - maybe they need Melinda Gordon from
Ghost Whisperer
to help them out?
Oh. There's also a bunch of outdoor stuff, like skiing and golf.
Umm, yeah. See how I didn't even pay attention to any of that stuff?