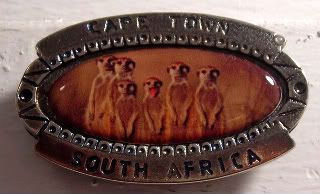 Magnet #395 - Meerkats from Cape Town, South Africa
A friend of mine brought me back this magnet from her trip to South Africa. How funny is this Meerkat family!
Alas, I haven't watched Meerkat Manor, so all I can think of when I see this is Amy Adams in Junebug, when she said her favorite animal was the meerkat and that kid from the O.C. fighting with the VCR to record the show about them. Heh.
Speaking of cool animals, last night around 1:30-2, as we were wandering around the Innisbrook complex - we saw not one, but two (!) armadilloes! How freakin' cool is that? Honestly, I thought they were native to Texas, not Florida. Still. Innisbrook armadilloes! Neat!
But, the real reason I picked this magnet for today, is because as you may have seen yesterday,
Retief Goosen of South Africa won the inaugural Transitions Championship
. Congratulations!
So funny that I walked by you two days ago, and was like, hmmm, wonder if he's one of those golfers.
I know, I know. But I'm not a huge golf fan. I think you need at least a few people like that to work this sort of event. That way, you don't feel like you're missing out if you don't get to see any of the actual tournament.
Though, I'll be honest, from our perch in the corporate skybox on the 18th green, we watched yesterday's last few putts, and then trophy ceremony. That was pretty damn cool.
Anyway, yay, Goosen!
Oh! Before I forget. Below are many, many, many pictures from the Transitions Championship. It was a great two weeks, filled with insight to how this world works and doesn't work, the learning curves and fun times, and teamwork and strife, and fun Tournament crushes and yelling matches. Yep. All in a day's work.
In the end, we can step back and say that we lived the vision we concepted months ago, put on a fantabulous event, and we're looking forward to next March. After we all get a little bit of sleep. Heh.
Riding Shotgun with Ponch pictures
Transitions Championship pictures (mine)

Transitions Championship pictures (official)