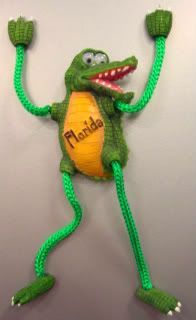 Magnet #383 - Florida
(Caution, there be advertising ahead...mind you, none of the below thoughts/opinions/yada-yada reflect the opinions of my employer, my clients, etc., etc., caveatcakes.)
So, because of
this story
, the producer on
our TV spot
bought me this magnet. Very sweet. Thanks, Alisa!
It's hard to believe the last six months have passed by in a flurry, and we're down to crunch time.
We've all gearing up for the
Transitions Championship
next week, a PGA TOUR golf tournament held down at
Innisbrook Resort and Golf Club
, outside of Tampa. It'll be the culmination of many long days and nights for most everyone involved, and I can't wait to see how it all pans out.
But, I'm not gonna lie, man.
Sheesh.
It's like I've never been away from home before, with the amount of prepping and packing and wardrobe buying.
In my defense, it's such an odd trip - it's clothes for staffing events/tents, clothes for play, clothes for client play, jammies acceptable to wear in polite company. You get the picture.
And my
DVR's gonna miss me
while I'm gone! I figured out last night, as I was ruthlessly deleting my stored shows, that just tomorrow and Friday, I've got ten shows on the docket. That's two Thursdays and Fridays - each! Twenty shows! Jeepers.
I'm hoping my luck holds, because I think I can fit something like 3o shows on my DVR. I think. Mind you, this yet another reason never to get HD, and another reason for hotels to have DVRs for their guests!
Finally, I've been toying with a theme for the next 12 days - should I do straight refrigerator magnets (no muss, no fuss, albeit odd organizations and businesses getting free advertising)? Should I do art gallery images (what? you didn't like yesterday's Whistlejacket, the cutest horse on the planet?)? See the thinking that goes on for
joy magnetism
?
Eh, in the end, I think I'm just gonna stay true to the
joy magnetism
mission statement. Random magnets. Random stories.
Signing off now. And, I'll see ya'll on the other side. Florida, please. Be kind to me.
(Mind you, I am totally sneaking away at some point for that
scrumptious potato chip-encrusted turkey burger
at Daily Eats. Oh. And a superearly morning breakfast at, yes, Dennys. Mark my words.)