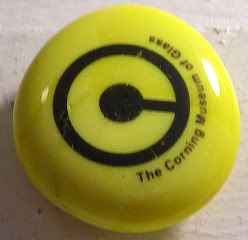 Magnet #380 - Corning Museum of Glass
A couple of years ago, a client of mine wanted to create an annual award given out to a few of their employees in the name of an employee, one of the victims of September 11
th
. It had to a
superspecial
award, something that had to be meaningful and strong, yet beautiful and elegant.
So we decided to work with
Steuben
, a local New York company, who produces some of the purest crystal in the world. Steuben is actually a division of
Corning
, who produces industrial glass and fiber optics.
And, so, on a field trip for another client prospect, we managed to drop by the
Corning Museum of Glass
...to see if we could source out an artist who could make our award. But what I found at the museum was simply amazing.
Even though I've seen a ton of Dale
Chihuly's
work, and loved it, I had no idea that there was a whole other world of glass artists. Artists who showed me how malleable and colorful and exquisite glass could be. These
pics
are just some of what was in the museum's collection, but you can visit their
online collection
to see more.
I hope to go back at some point, and be able to take my time walking through there - it really was sort of point, snap and click. And then just a little time shopping in the little shop. Where I picked up this magnet. It doesn't do the glass inside the museum justice, but I think I picked up one of the last two magnets in the store. So,
yay
, me.
In the end, we went with a ready-made Steuben piece for the client, a lower-cost piece, but still simply gorgeous. But I loved working with the Steuben people to concept some ideas, talking about production time, and learning their processes, and what goes into creating this stuff.
I'm still receiving the Steuben catalogs. I love looking through them, just to see what their new designs are, and what new animals they've created as
handcoolers
.
I'll be honest here, even though I know some of these large pieces are really
art
, I still don't really get the point of spending gobs of money on crystal
lobsters
($650) or
penguins
($2,175), or even images of
Moby

Dick
(at $43,000, you gotta
really love
Herman Melville).
Regardless, they're fabulous pieces, every single one.