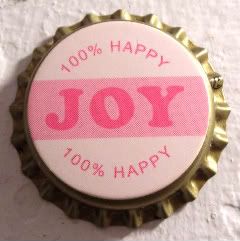 Magnet #500 - 100% Happy, 100% Joy
Yay
! 500!
I do love that I'm blogging on my 500
th
magnet with a magnet that I made. It's from one of those
bottlecap
sets that you can buy at like a Michael's or a Jo-Ann's, only I just stuck a magnet on the back, rather than making it into a pin.
I guess if I'd made it into a pin, it would have been like the little
bottlecap
Mr.
Fredricksen
gave to Russell on
UP
. Speaking of
UP
, I'm gonna go against the grain, and say that it wasn't my favorite
Pixar
movie. In fact, I fell asleep.
I know! It's a total unpopular opinion!
But, I suspect you'll find that a lot here on
joy magnetism
, because if there's one thing that I try to do in my life, it's stay true to myself and what I love - no matter how dorky or unpopular or obsessed people think it makes me.
So in honor of my 500
th
magnet, a review of my 500 favorite things -
hahahhah
, no, just kidding, only a handful, really. In no particular order: (cue
Sound of Music
music)
Architecture

. Frank Lloyd Wright.

McKim

, Mead & White.

Zaha

Hadid

. Frank

Gehry

. Daniel

Burnham

. Philip Johnson. Louis Sullivan. I.M. Pei. My taste runs the gamut, I just know what I like.

Magnets.

joy magnetism

.

Nuff

said.

Tours.

I love them. I would take a tour of a paper bag, if it were given.

Television/film.

I love them both. Love opening weekends, and no matter how much I weed out, there's a baseline of at least 30 hours of

tv

each week. Except reality. Hate. Kinda meta, methinks.
Travel,

roadtrips

and Roadside America. Practically grew up in a van, and there's nothing better than discovering some lost byway and crazy tourist trap. Here. Or abroad.

Books.

Yes. When I'm not doing any of the above, I love a good book. Who doesn't?

Chocolate.

No one understands how I can keep bags and jars of chocolate at my desk and not gobble it up. Psst. It's because I don't share the good stuff.

Duran Duran.

I know! It's crazy that my little

boyband

from the 80s can still make a girl

squee

.

Trains.

They're awesome. If I could train everywhere, I would.
George

Clooney

. And various and sundry

cuteboys

. If I list them, gravy, we'd be here for days. Just know:

Cuteboys

. Uniforms. Big guns. (No, not those guns.)

Doctor Who.

Ten is my Doctor, and if David

Tennant

decides to do the big-screen

DW

while Matt Smith does

BabyEmoDoctor

Eleven on

tv

,

that'll

be interesting.

(I'm thinking that this last one shouldn't count, since arguably, it's only been within the last three years or so. It could just be a fleeting thing that ends when David hits the road.)
There you have it. The oddest combination of me I can think of - even my best friend in the world giggles at some of the things I get into. And she's known me since we were in
Kindergarten
.
But even
she
doesn't share half of these things with me. And she shouldn't - that's what makes us friends, each bringing something different to the table.
Huh. I feel like I just filled out an online dating profile.
Hahahah
.
Anyway, happy 500! And they thought it wouldn't last.
eta:
Heh. Upon completing the labels for this post, I realized that I had existing labels for just about every item above, which I guess just means I'm pretty consistent in the things I talk about here, the places I go, and the things that interest me. Yay, consistency, I suppose.