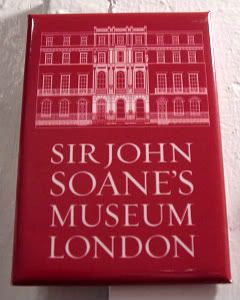 Magnet #502 - Sir John Soane's Museum
So last night on the newly dubbed Siffy (ok, fine, SyFy -
Televisionary article here
), they debuted
Warehouse 13
, the story of two Secret Service agents who get drafted into X-filey/Fringey duty at Warehouse 13 in South Dakota.
It's summer and I'm not picky (not any more than usual, anyway), but it was an ok show, and will probably stay on my dance card a bit longer. But, there are a couple of long shots of the giant warehouse, and it reminded me of the Library in Noah Wyle's
Librarian
series or the couple of antiquities warehouses in the Indy flicks.
And, it reminded me, oddly of the Soane Museum. The. Most. Awesome. Museum. Ever. If you have a spare few hours in London, head down to Lincoln's Inn Fields and check out
Sir John Soane's Museum
.
It's listed in the
1001 Buildings to See Before You Die
, because of the architecture, so yay, check another off that
book
! But basically, Soane, one of London's famous architects, started out with just one of the buildings (I think, No. 13 in the center), but in the end, bought up No 12 and No. 14, demolishing them all and rebuilding them to his very specific and eclectic specifications.
I mean, he needed all that crazy space as his collection of antiquities and art grew. And grew. When he passed on, he left it to the nation to allow all those "amateurs and students" in architecture, painting and sculpture to come to this place to see and learn.
Ok. So big deal, right?
But here's where I wasn't at all prepared. I mean, I'd done my homework, visited the site to get the hours, but didn't really explore it. The pictures didn't really do it justice, and frankly, I can't remember if this
360-virtual tour
was up on the site. But Oh. My. Lord.
First. There was a line to get in - it's close quarters in several areas of the house, and they can only let in a certain number of folks in at a time. And no cameras!
Second. It's very unassuming, as you walk into the darkened hallway and check your coat. You then walk into the very open dining room and library, and it gives you a bit of a freeing sense of space. But that's pretty much the last sense of expanse you'll get of it.
This museum was seriously packed to the gills with the walls and tables covered with everything everything from Apulian vases from the late 4th century to 13-century wooden fragments of Westminster, to Hogarth's
Rake's Progress
series to a couple of Canalettos, to a crypt and a Sepulchral Chamber with the sarcophagus of King Seti I!
Dudes, I dunno who he was, but the darn thing is from 1303-1290 BC, and this guy had it. In the basement of his house! Why? Because the British Museum didn't want to pay 2,000 pounds for it.
Or, that's what this
video
says, anyway. It's the only thing I can find that gives you a good enough feel for the place, because it's truly one of those places you have to see to believe. I'm surprised, frankly, that a remnant of the Elgin marbles aren't hidden away in there!
Only -
don't
go at dusk.
They don't believe in lighting, so almost everything's lit by candles and dim lamps...and security guards lurking around every freakin' corner, scaring the beJEEPers out of you at every turn. It's very gothic, very creepy, very damn scary.
No joke, man. I finally creeped myself out so bad, I almost forgot to pick up this magnet at the shop in my haste to get out before full-on nightfall.
Now you
know
that's scary.