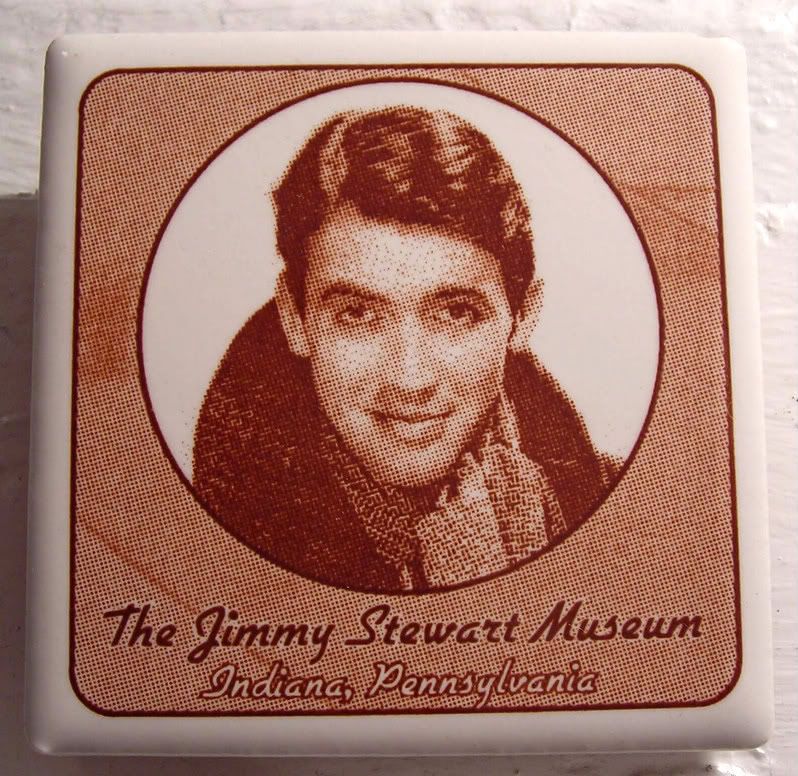 Magnet #186 - The Jimmy Stewart Museum
The
Britannica Blog
is one of my new favorite blogs on my Google Reader, covering a wide array of fun and serious topics.
This excellent
blog entry
about Jimmy Stewart popped up, prompting me to use this magnet. I absolutely adore classic movies of all kinds - Cary Grant, Hepburn/Tracy, John Wayne, and of course, Jimmy Stewart.
The
Jimmy Stewart Museum
was a total find, and was tacked on to yet another
roadtrip
through Pennsylvania. And, his hometown of Indiana, PA, is exactly where you think good people like Jimmy Stewart come from. The museum itself, has several exhibits and much memorabilia of the different periods of his life - childhood, school, military, Hollywood. It's a must-visit for any fan...and makes you want to watch every one of his movies.
Feels like
everyone's
favorite Jimmy Stewart movie is
It's a Wonderful Life
. Not mine. It's not
Rear Window
or
Vertigo
. It's for sure not
Harvey
(which I can't stand). And, it's not even
Philadelphia Story
, though it comes in as a close second.
In the showdown for ultimate
geekiness
(
Goldengait
, I'm
lookin
' at you), my favorite Jimmy Stewart movie is
The Glenn Miller Story
, with June Allyson. I know! It's crazy! But, Glenn Miller was practically a staple in our household growing up - when we were babies, my dad used to hum "American Patrol" to us and make our hands dance.
I
freakin
' love the true story of everyman Glenn Miller just
tryin
' to make a
livin
' with his music, only to become one of the best-loved band leaders in the world. Every time I see it, I cry at the ending. The first time I saw it, I had no idea - I called my dad up and said,
OMG
, did you KNOW? And he's like, yes, Joy. Everyone knows - it's a true story, silly.
Well, I hadn't a clue. So.
Freakin
'. Sad. And, no, I'm not spoiling the ending - go. watch. it. Bring tissues.
Oh! And you can't really beat the Glenn Miller soundtrack, either. Yep, I suppose I am my father's daughter.
So, yeah, Jimmy Stewart. They don't really make actors - or movie stars - like that anymore.