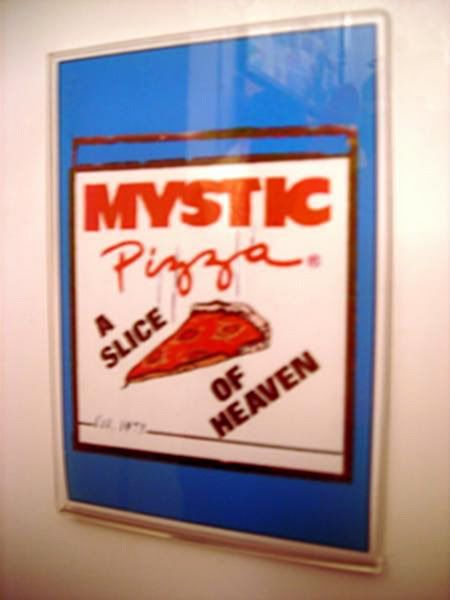 Magnet #173 - Mystic Pizza
Yep.
That
Mystic Pizza. We dropped by Mystic, CT, on our way home from a Mohegan Sun daytrip.
Pizza was pretty good, but don't expect Annabeth, Lily or Julia to serve you.
Do
expect them to be staring down at you from any number of movie paraphernalia hanging on the wall.
I was mostly disappointed in the homemade magnet, though. It's one of those plastic frames with a rather poor color copy of the restaurant graphic inserted. Oh, well.
I picked today's magnet, because apparently, we're playing a new game: how many magnets can I tie-back to the Olympics?
Somewhere in the recesses of my mind, I remembered that Michael Phelps has this weird diet of pizza and pasta. And I have this image in my head of him with a stack of steaming hot pizzas, with his almost-a-dozen medals round his neck. Heh.
Favorite quote today:
Phelps, after his 200 butterfly win
: "I mean, yeah, I did break the [world] record, but I think I can go faster. That's what I'm most frustrated about."