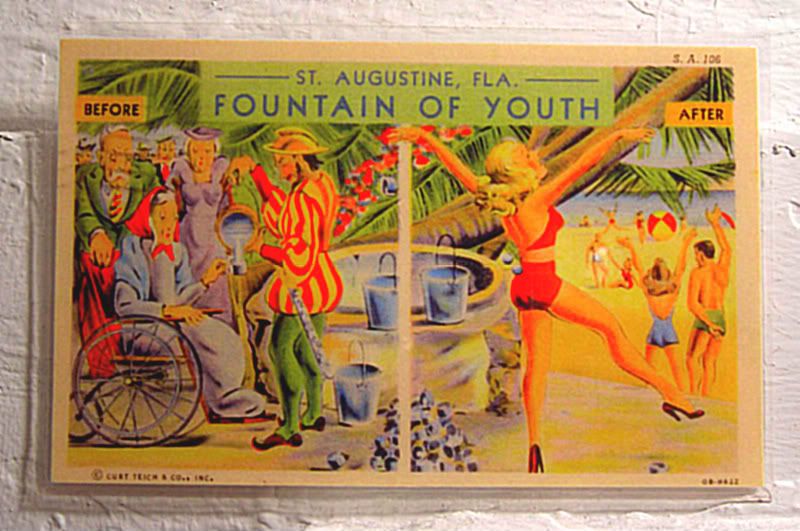 Magnet #168 - Fountain of Youth, St. Augustine, FL
I don't remember the
Fountain of Youth
being quite so roadside attractiony when I was little and visited. But, I went a few years ago on a roadtrip with my parents, and man, this place got cheesy.
It's still an archeological park, and it sits on like 15 acres of different outlying buildings and little demonstrations and shows. They have a pretty big little shop, which had everything from the requisite cheesy kitsch to scabbards and stuff, if I remember correctly. The piece de resistance is the Spring House - a whole little cavern-ish diorama where you all stand around while a little lecture's given...and you're allowed to drink water from the Fountain. In little clear Dixie cups.
They claim that St. Augustine is the "oldest continuously occupied European settlement within our continental United States," and if you visit the Discovery Globe and the Navigators' Planetarium, it shows you how the Spaniards settled Florida and beyond. I completely learned a helluva lot watching the shows...with as much land the Spaniards conquered, it's amazing that Spanish isn't our first language instead.
For example, did ya'll know that they say the first Thanksgiving happened in St. Augustine, FL, in September 1565? Really, though, if they did have the first Thanksgiving there, is it possible that all the Pilgrimy stuff that we all wore growing up should have actually been palmetto-leaf outfits and lots of oranges?