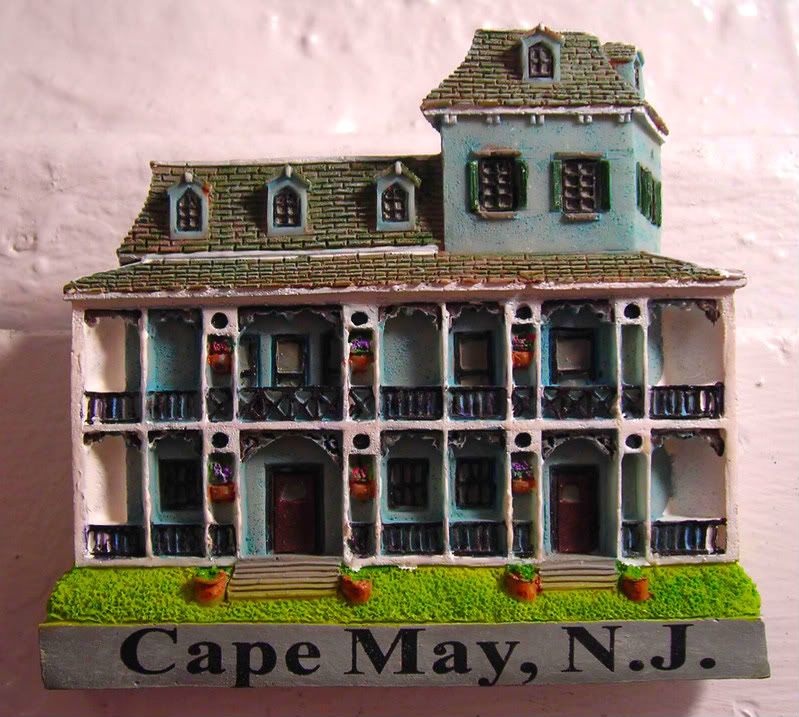 Magnet #163 - Cape May, NJ
Soooo, yesterday, if you'd said that I'd spend my sister's big birthday weekend down the Jersey Shore, I'd probably have laughed at you. Mostly, because ya'll know how I detest beaches. But also because for some reason beyond me, I didn't associate either Atlantic City or Cape May, NJ, part of the Jersey Shore.
Clearly, both are next to the water, but I just didn't think about it.
We spent much of today in Cape May - the only town in all of America designated as a historic landmark - looking at the supercute Victorians, visiting the lighthouse, running around the little shops, and yes, walking on the beach and even(!) dipping a toe or two or ten in the freezing cold Atlantic.
The best surprise of yesterday was a giant elephant (yep, I'll eventually get to that in a later magnetpost), but the coolest surprise of today was seeing a World War II bunker on the beach. I've been to Normandy, and seen the WWII bunkers there, so, seeing a bunker on a beach shouldn't have been so jarring. But, I honestly hadn't a clue that we had our own bunkers on U.S. soil. How cool is that. A little scary, but still cool.
Also a little scary? How much food one can consume in a weekend. Between the Philly cheesesteak taste tests between Pat's and Geno's in Philly (jury's still out), the Borgata buffet (pretty damn good, though the Bellagio's better), and seafood (seeing as how it
was
the beach) along the shore, I'm surprised I didn't just roll down the railroad tracks back up to NYC. Yikes.